Thursday, 3. September 2020
My Postcrossing anniversary!!! :-)))))
WED 2nd Sep was my 15th anniversary in the large postcrossing Family and they sent me a nice Mail!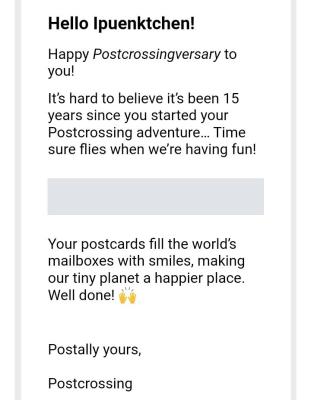 (c)postcrossing!!!!!
if you like it, give it a try and join in:
www.postcrossing.com

Postcrossing ro mishnasin?
Lotfan in site ro baz konin and register yourself:
www.postcrossing.com
2 sept panzdahomin salgarde man bud!!
Dar arze in salha man 882 Cartes postales ferestadam
wa ham in andaze Cartes postales be man ham resid!!!
... link (0 Kommentare) ... comment