Monday, 22. February 2021
Beetroots - Betraves - Rote Bete.... :-))))))
my great favorit!!!!!!!!!!!!!!!!!!!!!!!!!
and for ppl with blood vessel deposits like my hubby very helpful food!!!!!
after two great recipes I tried with and made them again and again
- beetroot stew
- pomegranate-beetroot salad
today I will give a try for
- beetroot pasta!!!
let's keep our fingers crossed pls and stay tuned!!!!!!!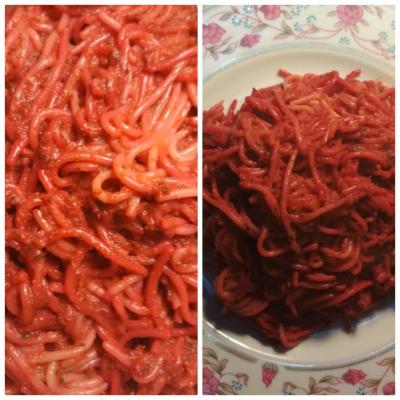 later: Good food, good mood!!!!!!!!!!!!!!!!!!!!!!!
the beetroot pasta was yummyyyyyyy!!!!!!!!!
huge thxxxxx @Kuechenchaotin at insta....
mit grossartigen Rote-Bete-Rezepten von instagram konnte ich
meine vorliebe dafuer bedienen. ausserdem ist es ein sehr gesundes
lebensmittel fuer leute, die mit ablagerungen in den adern z
kaempfen haben, was bei maenne leider der fall ist!!!!!!!!!!!!!
- rote-bete-eintopf
- rote-bete-salat mit granatapfelkernen
- rote-bete-pasta
kann ich euch alles nur empfehlen. wer mag, kann mich gerne zu
den rezepten ansprechen!!!!!!!
UPDATE: 1.3.2021
Today we had again the gorgeous salad!!!!!!?!
Photo - pls stay tuned!!!!
... link (0 Kommentare) ... comment