Monday, 26. April 2021
LE PETIT PRINCE - my alltime favorit!!! ;-)))))
what a news I just got nowwwww!!!
2 weeks ago it was the jubilee of dear LITTLE PRINCE!!!!
- 75th anniversary of the publication of the first edition of the famous book of Antoine de St. Exupery!!!!!
and the french post office issued a special stamp for this opportunity!!!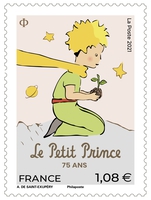 ich knabbere an meinen Naegeln, ob ich wohl das Riesenglueck haben
werde, eine solche Marke zu bekommen?????????
UPDATE:
YOU MADE MY DAY,
DEAREST Melanieonthebike!!!!!!!!
Vor 2 Tagen kam deine erste Karte in Hannover an, juchuuuuuuuuuu!!!!!!!!
... comment
melanie fr, Saturday, 8. May 2021, 10:29
Vor deines Email hatte ich nichts von dieser Briefmarke gehört ... Ich war so glücklich, sie in der Post zu finden !!! Hast du das Foto erhalten, das ich per E-Mail gesendet habe?
... link